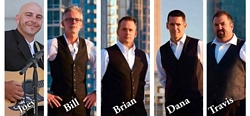 YOUR ENTERTAINMENT SHOULD NOT BE THE 'STAR' OF YOUR BIG DAY.
HIS JOB IS TO ENSURE THAT YOU ARE.
Your Day, Your Way. It's just what we believe.
Bill, Brian, Travis, Dana and Joey ARE Z Brothers Entertainment. We have built(and grown) this brand by the efforts of our work, individually, and collectively.
Our work comes from word of mouth and by referral. We enjoy many repeat clients and we have been chosen to be the entertainment for multiple siblings, family members and guests of our client events.
Many of our peers within the wedding, event and entertainment industry have chosen US to be part of their most cherished day because they trust us to deliver. They know they can count on us because they've experienced firsthand, what we do.
We have been the 'voice' and entertainment for international corporations, high profile individuals and professional athletes, entertainers, political figures and many charitable foundations. We won't name drop them simply because it's not our style and honestly, we think each and every customer we have ever had, is as valuable as any other- each one cherished because they allowed us to be a part of their special day.
Our entire company consists of four (4) professionally trained, highly experienced PREMIUM level DJ's and one (1) professional acoustic singer/guitarist. Each works individually on an event. Bill, Brian, Dana and Travis each have well over a decade of experience performing at live events. They have ample talent and charisma and are very well known (and liked) within the industry. Think of it like this- a wedding, corporate event (or even a 50th birthday/ anniversary party) has many components. We don't just simply show up and play music. We can be (and often are) involved and highly proficient at overseeing the entire process- the layout of the room, the sound, the lighting, the agenda and or timelime and flow. And then ultimately, setting the tone for optimum atmosphere and music as well as serving as Masters of Ceremonies, leading everyone through to an unforgettable event.
Contact Us