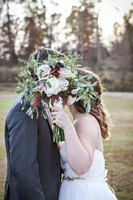 ABOUT US
At Southern Bliss we are professional Wedding Photographers based in Kannapolis, NC. Southern Bliss was established in 2017 and services include all of The North Carolina regions and available for destination weddings. Specializing in Weddings, Bridal Portraits, and Engagement Sessions.

We are a best friend team and our main goal is to provide a stress free wedding. We are great at putting people at ease, and we approach each wedding with a desire to make your day run as smoothly as possible. We do everything we can, even if it means doing non-photography related things such as lacing up your dress, fixing your bouquet, going on an run for emergencies, or making a fool of ourselves to make the shy little flower girl smile for a photo.

Wedding Photography is our favorite! We love getting to know our brides and groomsmen. Being a newlywed is so exciting, and there is so much love between two people. We love having the opportunity to capture a day that celebrates love an to share it with their friends and family.
Contact Us