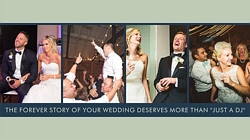 Remarkable Receptions - A team of Wedding Professionals that care about you - and the home to the Southeast's #1 Master of Ceremonies & National Wedding Entertainer - DJ Rich Lange.
"I believe every couple deserves a Remarkable Reception. I LOVE talking with engaged couples about their story, and discovering their own vision of a fun wedding celebration....I'm available to talk about yours anytime!" -RICH LANGE
Your Wedding Day will be more than you ever imagined....more Fun....more Personal....More Remarkable. How?
We work collaboratively with you to create a Uniquely Personal and Remarkably Fun Ceremony and Reception. A personalized celebration that allows you to enjoy the fun while celebrating with your guests.
No planning stress or worries and a guaranteed fun, successful celebration...
We guide you through the Planning process from beginning to end and create the Perfect Timeline flow for your celebration to ensure your Master of Ceremonies handles every detail for a fun, smooth-flowing celebration.
During our planning meetings we discuss the important details of your relationship and what is most important for your celebration. Then, together we begin to add personal touches.....Your Story, your Celebration, It's Always About You.
Trust the Carolina's most enthusiastic, helpful, and in-demand Master of Ceremonies and Wedding DJ for your wedding celebration.
Expect Fun...expect Personal...expect Remarkable...your celebration deserves nothing less!
Ready to get started or want to know more? Schedule a no obligation, get-to-know-us-meeting, its completely free.
Contact Us