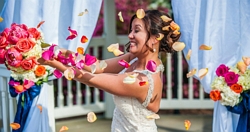 Your wedding day is packed full of emotion and the moments you spent the last year planning fly by so quickly. I know it did during my wedding. With over 10 years of experience as a photojournalist, I specialize in telling your story by finding those special moments that make your day unique.
I get to shoot for some amazing, fun-loving couples whose joy for life shines through in the photos we make together. My life as a photojournalist has given me countless opportunities to meet new and interesting people and I truly enjoy learning everyone's story. That's exactly what a wedding is for me: a chance get to know incredible people, like yourself, and tell the story of this milestone in your life.
It's an extreme honor to be trusted with documenting once in a lifetime moments. Your wedding is a celebration of life and I want you to be be filled with that same sense of joy every time you pass your photos hanging on the wall, flip through your wedding album, or see the image that pops up when your spouse calls your phone.
Nothing gets me more excited than seeing raw emotion pouring out of the photos I make. My mission is to tell visual stories for my clients with high caliber, documentary-style photography and to create meaningful artwork with professionalism and enthusiasm.
I'm an award-winning member of theWedding Photojournalist Association (WPJA), an international organization representing professional photographers skilled in the documentation of weddings and events in a candid, unobtrusive style. Additionally, I've twice been honored as the Photographer of the Year by The North Carolina Press Association (2010 and 2012) for my work with the Independent Tribune, a Concord, NC-based newspaper. You can see more of my photography over at www.nixphoto.com
Contact Us