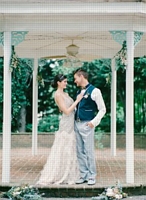 As a former private residence, Mosteller Mansion provides the kind of intimacy and cozy elegance that many couples yearn for—making it a perfectly welcoming and timelessly beautiful environment for a wedding. We are proud to provide on-site catering and full access to a list of preferred vendors, as well as options for single-room or whole house rental.
Wedding Information Request Form
About Our Rooms
Mosteller Mansion has a number of rooms to choose from, each offering something distinctive and regal.
Wedding Information Request Form
Further Facilities
Mosteller Mansion also proudly offers a full bridal suite and a groom's room—all newly remodeled. Our lower floor, which features the groom's room, also has a full bar and a 50-inch LCD TV, making it a great space for unwinding and getting ready for the big day.
In addition, Mosteller Mansion has beautiful outdoor areas—a lavish backyard area with big steps and scenic views and a gazebo area ideal for wedding photos.
But you don't have to take our word for it: We invite you to come tour our facilities, and experience the Mosteller Mansion's unique elegance for yourself. Contact us today to set up an appointment by filling out the Wedding Information Request Form or calling us now at (828) 345-1001!
Contact Us