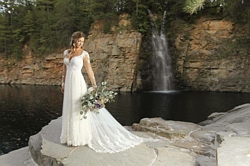 Weddings in Mooresville
Plan Your Special Day in Mooresville, North Carolina, where Lakefront settings, historic charm and Southern hospitality await you.
Whether you're looking for a rustic farm setting, a spacious banquet hall or a lakefront venue, Mooresville, NC offers a range of beautiful and unique wedding venues for your big day. Mooresville is located just 30 miles north of Charlotte, NC, so you can have the destination wedding you've always dreamed of without the added expense of traveling to a remote location.
Guest lodging? Let us cross that off your endless to do list! Our complimentary services include contacting each of our hotels to bring you their most competitive rates and amenities tailored to your special guests, all in one package. Just contact our office (704-799-2400) and we will handle the rest. We also provide complimentary goody bags for your special guests, or just some goodies to include in your own special bags. Each will include our Mooresville Visitors Guide to help your guests fill their downtime with the best that Mooresville has to offer. Guide includes restaurants, attractions and local events to keep them occupied while in town, and the possibilities are endless.
Contact Us