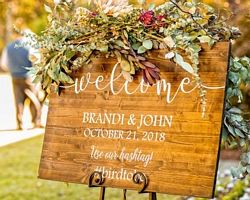 ABOUT US
HI THERE! MY NAME IS MIRANDA WHITLEY AND THAT HANDSOME GUY NEXT TO ME IS MY HUSBAND JONATHAN!
WE STARTED THIS BUSINESS WHILE PLANNING OUR OWN WEDDING WHEN WE REALIZED THERE WERE NO OPTIONS IN OUR AREA FOR RENTING "DETAIL" TYPE ITEMS. FOR INSTANCE, BAR SIGNS, LANTERNS, EASELS, ETC! SO WE BOUGHT OUR OWN AND WE MADE OUR OWN SIGNS. ONCE MORE PEOPLE STARTED SEEING OUR SIGNS, WE WERE GETTING FLOODED WITH PEOPLE ASKING US TO MAKE PERSONALIZED ITEMS FOR THEIR WEDDINGS.
AND THEN IT HIT ME…
WHY IN THE WORLD ARE WE ALL PAYING A FORTUNE FOR THESE PERSONALIZED SIGNS WE WILL LIKELY NEVER USE AGAIN?!?!
AND THUS… EVERY LAST DETAIL WAS BORN!
A LITTLE MORE ABOUT US,,, JONATHAN OWNS A LANDSCAPING BUSINESS AND I AM A CPA BY DAY AND AN ENTREPRENEUR BY NIGHT! WE ABSOLUTELY LOVE GETTING TO MEET ALL OF THE AWESOME BRIDES, GROOMS, EVENT PLANNERS, OTHER WEDDING VENDORS AND MORE! WE ALSO LOVE OUR SWEET DOG TUCKER, GOING TO THE BEACH, AND SPENDING TIME WITH OUR FAMILY AND FRIENDS!
THANK YOU FOR VISITING AND PLEASE DON'T HESITATE TO REACH OUT WITH ANY QUESTIONS!
LOVE, JONATHAN AND MIRANDA WHITLEY
Contact Us