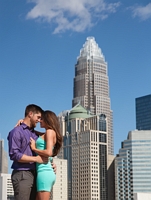 I am fascinated by all of the beautiful little details of life. I have a passion for documenting all of it – people, relationships, the story, especially the story. I have always been aware of taking mental note of "this very moment" and just how special it is. And now I love creating heirloom images that tell your stories. Travelling and living outside of America for over a year has helped me get a different perspective and that has opened my eyes to so many different ways of seeing stories beyond my own.
The official photographer of Carolina Bridal Fair, Mary Beth Westgarth-Taylor

Colin Westgarth-Taylor
My favorite part of photography is capturing moments that are very special to a bride and groom and their families...images that make them smile and bring them right back to their wedding day every time they look at them.
I've spent many days in dark rooms processing film and producing enlargements (did I just date myself?), but I have to say I really enjoy the digital world. Photography hasn't gotten easier, it's just opened up a new realm of possibilities that I am so excited to explore.
Contact Us